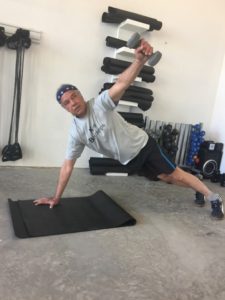 MEMBER SPOTLIGHT
Here at Kore, we are a community. This week we want to give our love to J.P.! One of Kore's first members!
J.P. is a fantastic determined member who is dedicated to Kore and his workouts. Here is a little from J.P. himself.
"I worked construction until my mid 30s when I began a career as a less physically active inspector. When I turned 40 I realized I wasn't getting any younger, so I piddled with various exercises – hiking, biking and joining gyms. Eventually started playing casual volleyball and softball as well. Working out at the gym wasn't cutting it; the same repetitive stuff that most people fall into, no real core or cardio workout. In my mid 40s I started playing more organized aggressive softball and volleyball.
About 10 years ago, at age 55, I joined Kelly's bootcamp sessions at the Y in Abingdon. Since then I followed her around to various facilities, most recently at Kore. This is the only comprehensive workout that benefits me totally. There is no freakin way that I could do a fraction one of these workouts on my own, not many people are that disciplined. The classes are very encouraging, they make it all possible. Keeping my blood oxygenated with intense workouts gives me amazing physical and mental stamina, considering my age.
Can't say that I have a favorite exercise, but incorporating upper body workouts in my regimen, along with the agility phases keeps me in the game playing softball and volleyball.
Most people that are reasonably fit can benefit from these comprehensive workouts – they may think that they are too intensive, but a little bit of determination is all you need to move forward. Yes, it's difficult at first, but once you get in the groove it becomes part of your life. You just have to take the first step."
We couldn't have said it better ourselves. Not only does his passion show for his workouts but his mindset and determination shines when he is in class. Not only is he an inspiration to us all but a humble individual. This shows that with dedication and hard work, YOU can make a habit and work towards desired goals. Nothing great ever comes easy. But take it from us, it sure as hell is worth it.
"These workouts are one of the best things that have happened in my life. Its given me serious physical opportunities that I may have missed."- J.P.
#Come join us for bootcamp! We have classes running everyday!