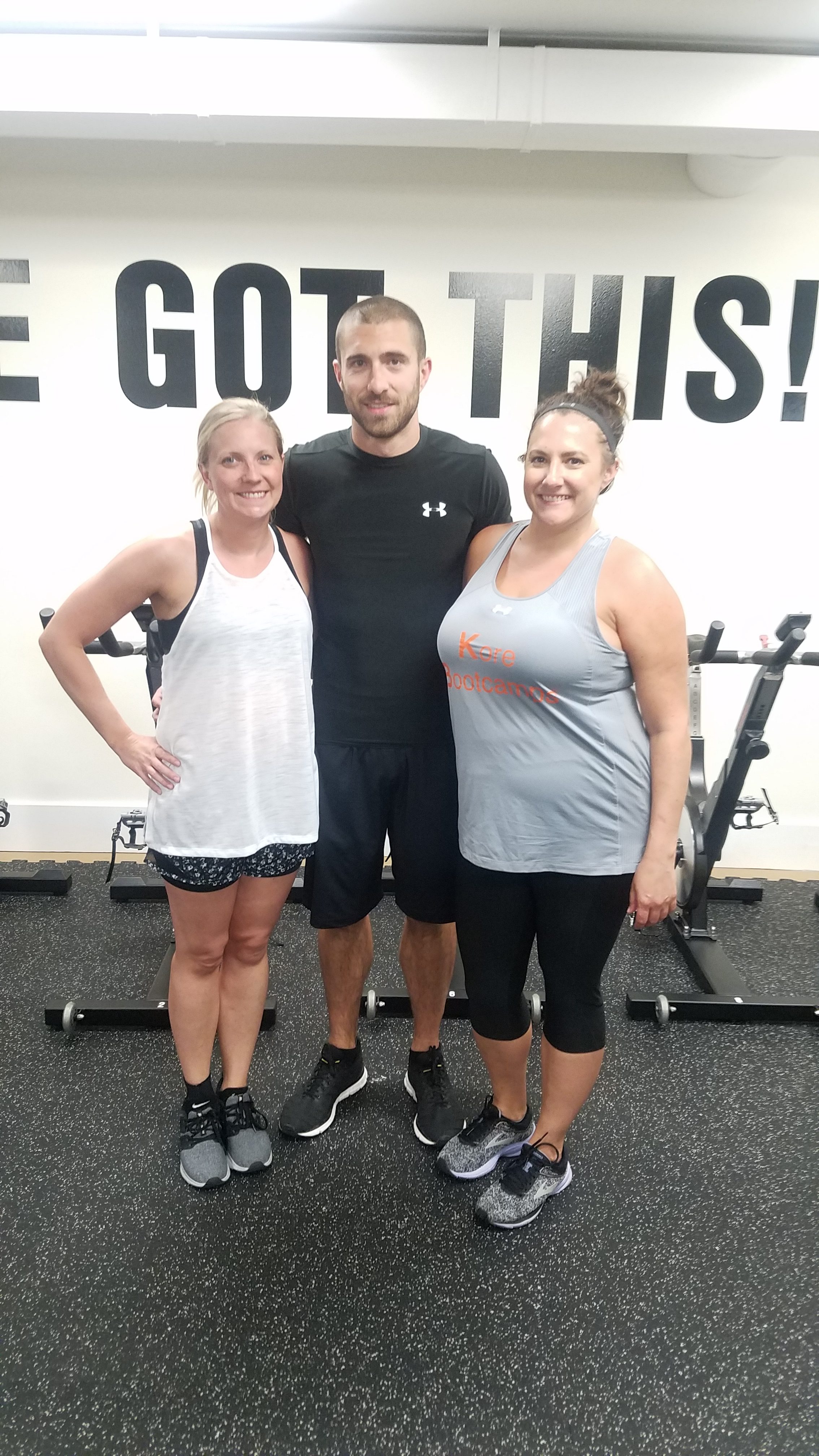 A Family that Spins Together Stays Together!!
We have a lot of families that come to Kore Bootcamps. We have husbands & wives, mothers & daughters, cousins, friends, etc…
Matt & Lauren are siblings and Erin is Matt's Girlfriend.
We love having all 3 of them at Kore! They work really hard and always bring a lot of fun into whatever class they are taking. We are super Excited that Matt has recently become a Spin Instructor for Kore. We love all 3 of them and wanted you to get to know them and their journey at Kore a little better.
1. Do you guys encourage each other when you workout? Or do you get competitive?
Lauren: I think a little bit of both, especially with my brother, the competitive side definitely comes out.  Matt is a great at pushing me to lift heavier and go faster, its always in good fun.
Erin: Matt is competitive and always enjoys outdoing everything in life. Where I know I can't always keep up with his fast pace it encourages me to keep going as hard as I can. I like to give him a push too when he starts complaining in class!
Fun Fact: Lauren and I completed a Sprint Triathlon in May 2016 together!
Matt: I'm pretty competitive in everything I do because some friendly competition always makes me work harder. I think that with Lauren it is a little more competitive and I tend to push her to work a little harder but with Erin I have to be more encouraging to in order to keep her motivated.
2. Do you feel more inclined to go to class if one or two of you is going or Matt is teaching?
Lauren: Matt and I have been going to the same gyms together for about 7 years now and usually go to the same classes.  I love working out with him and credit myself for his love of spin now.
We both hurt our backs and I encouraged him to give spin a try as it is low impact but still gives you a great workout and look at him now, he's teaching! I love that Erin is now a full time member and I get to workout with her on Saturdays and special events, it's always a good time.
Erin: Yes! I've always admired Matt and Lauren's dedication to working out and the relationships they have built through group fitness over the years. I personally have struggled with having a consistent life routine, let alone workout routine so both of them going help me get there more consistently. I also do more spin classes now that Matt is an instructor! I've always wanted to be able to work out together as a couple, but my pace is too slow for him when it comes to running or biking. I would join Matt and Lauren at Kore's free events during the first
year of it opening and really got hooked after the January 2019 Challenge.
Matt: I usually go to class as much as I can and whatever works best for my schedule regardless of who will be there. It is always more fun thought to do class with one or both of them, especially for the bigger holiday/themed classes.
3. How does working out/working for Kore make you feel? How has it benefited you?
Lauren: The members, the classes, and the instructors all make it a great place to workout and wanting you to come back for more.  I have followed the instructor Cary to 3 gyms including Kore, she constantly challenges you and keeps the workouts interesting, you'll never get bored in her class and you will leave feeling like you gave it your all.  I never enjoyed spin until I came to Kore. Kelly, Scott, Sam, and now my own brother continue to make spin a fun and great workout.  I have had to deal with a bad back since I was 16 and hate having to rest when it gives me trouble.  Spin allows me to go sweat it out even when my back flares up.
Erin: Working out at Kore makes me feel strong and empowered. I never thought I was conditioned enough to make it through Bootcamp classes until I took a few small group training classes instructed by Cary, at a previous gym. At first I was intimidated by what was next in the workout, but Cary always made me feel like I can keep going. She knows when to push you harder and also knew when you are at your peak. It's been awesome to be able to take her classes again!
Matt: It's a great stress reliever. There is no better feeling than leaving the gym sweaty and tired yet feeling great about the work you just accomplished. It also feels great to belong to a small group fitness gym that makes you want to keep coming back. Kelly has also introduced me to spinning which is something I never thought I would like. After continuing back injuries she finally convinced me to take one of her classes. Never would have thought that I would end up teaching spin classes. Teaching class is a lot of fun but also very rewarding when you get to see people always improving.
4. What do each of you love most about Kore?
Lauren: I have loved Kore from the very first class I attended. I went with my good friend, workout buddy, and now Kore instructor, Megan.  She drug me to a 5:30am class on random weekday and we never looked back. We knew before our first class had ended that this was the right place for us. I quit my current gym that same week and signed up at Kore.   We had met years before at a gym that gave us that same feeling, and had been looking ever since it had closed for something to replace it.  I've always been someone who preferred group fitness classes as my favorite way to workout, I want someone to tell me what to do, people around me who push me and challenge me, and that is what Kore did, and continues to do for me.
Erin: I love that Kore is more than just a group fitness studio, it's a community. I had always admired Matt and Lauren's dedication to working out and the relationships they have built through their gyms over the years. I am so happy that I get to experience that same feeling with both of them, and all of you! The instructors and members are always encouraging even in the toughest of workouts. You really feel like you belong. I also love that Kore adds an element of focus on your mental wellbeing. Kelly offers various workshops around mindfulness and frequently posts motivational quotes on the board in front of class. Those quotes really resonate with me and give me a little bit more courage to let go of the past and keep moving forward.
Matt: The motivating and friendly environment is what makes it fun while still giving a great workout. I was at a gym previously that was the same way. After it closed I had continued to look for a replacement which I found at Kore. My sister told me about Kore opening and I decided to give it a try once I found out Cary was teaching there and they had started to reduce her classes at my current gym. Cary is one of the most challenging and motivational trainers I have ever worked with. Cary has the best bootcamp classes.
5. How do you feel Kore can benefit other people?
Lauren: How can it not?  I've made a new group of friends who I get to see nearly every day who notice when I've been away whether with a cold or away for work and get excited when I return. I love that I've gotten friends and family to join and we get to do something we all love together a couple times a week, even if we are grunting and complaining though it all.  It makes working out fun, I look forward to going and hate when I miss.  It's part of my routine so it doesn't feel
like a chore to go.
Erin: Kore is more than just working out just because someone says you need to, the community at Kore will make you want to go back. Kore is more than taking care of your body, it's about your mind too. Kelly frequently posts motivational quotes on the board in front of class. Those quotes really resonate with me and give me a little bit more courage to let the past go and to keep
moving forward.
Matt: Kore is a great place for anyone to get back into shape or stay in shape. It's a judgement free zone where everyone is willing to help you improve whether it be showing you an exercise, correcting your form, pushing you out of your comfort zone or just telling you not to give up. If someone is willing to try then the instructors and members will help you meet your goals.