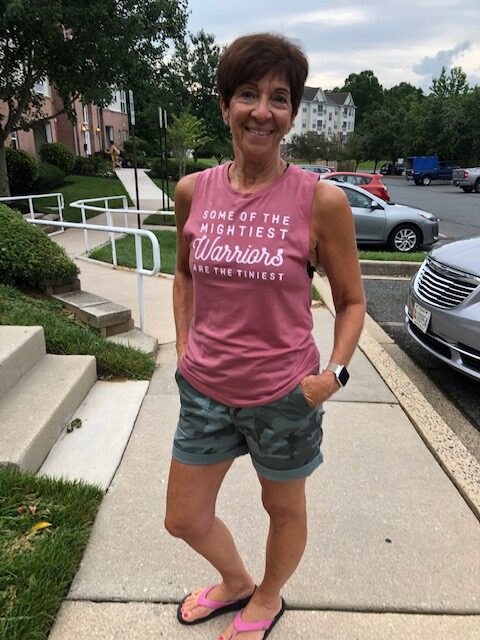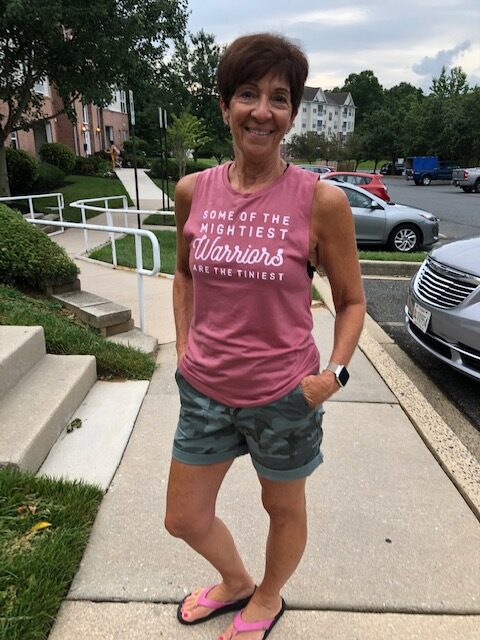 1. What brought you to Kore?
    I was a member of Gold's and then Retro Fitness and had been doing classes with Cary Barrett for years . I had not been terribly happy with the facility and the changes they were continually making to the class schedule for a while but making a change is difficult and all my friends were still there.  Cary kept trying to convince me to come to KORE but I wasn't sure I was "KORE material" - that I could keep up and do boot camp classes on a regular basis.(like every day)   Then Retro closed its doors on March 1.  I hopped around, trying free classes wherever they were offered.. After two weeks of shopping around I knew I wasn't quite ready to scale it back and KORE offered the more challenging classes I was accustomed to at a price I could afford.  I decided to try it for a month and the rest is history .  Going strong for 8 months now and loving every minute.  Best decision I ever made - my only regret, I didn't do it sooner.
2. What would you say to people that may be afraid of trying out a class?
   It is never too late to start taking classes.  I personally think it is much easier to take a class than to go to a gym and work out alone. And believe me - no one is watching or criticizing - classes are definitely a "no judgement" zone.  We are all struggling in one way or another - whether it's our first class or our 100th class.   Find a friendly face, introduce yourself, tell them it's your first class. - share your fears.  Not everyone there was "athletic", you'd be surprised how many started out just like you - one day at a time.  AND COME BACK - don't allow yourself to be discouraged after a day or a week. Some days are easier than others. But no matter how easy or hard class is when it's over you always feel a sense of accomplishment.  Maybe you did 5 more squats or you increased your weights - just a little.  It takes time and commitment but it's time you deserve. Taking classes is a way to put everything else aside, the bad day at work, the screaming kids, the traffic  - whatever it is that is tugging at you and allows you to concentrate on you.  Think of working out or taking a class as a " present" to yourself, one you deserve, a step to a healthier you.
3. How does working out/working for Kore make you feel? How has it benefited you?
   Working out at KORE has been my savior.  The pandemic threw us all for a loop but KORE never skipped a beat..  It kept me on track - it literally gave me a reason to get up some mornings.  I was furloughed for 7 weeks and there were some days I did not even want to get out of bed - and that is not me at all but knowing that I had signed up for class and someone was going to be waiting for my "smiling/not smiling" face to appear on that screen kept me going.  It made me accountable  - I almost never missed a day.  For those that know me I'm competitive by nature so the challenges have given me extra incentive to keep going.  I have stayed healthy and on track fitness wise during the entire time - thanks to KORE and their amazing staff.
4. What do you love most about Kore?
   It's a different time in the fitness world with the pandemic.  My favorite part about going to the gym and taking classes has always been the people, the friendships.  Unfortunately being new to KORE and coming in just as they were closing their doors I have not had the opportunity to meet many members.  BUT having said that the outside classes and the special events have given me a chance to finally come face to face with the amazing KORE members. And the instructors - what can I say.  They are encouraging, friendly, motivating, honest (they tell it like it is some days, Kelly) and most of all they kept things going when all else seemed to be shutting down. The option of virtual and on demand classes makes working out so convenient - even on vacation, no matter where I was I could hop on my phone and take a class. The classes are always challenging, never boring, always different and keep me on my toes .
5.  How do you stay motivated to keep coming?
    That's actually pretty easy for me - I love working out.  I was an athlete growing up and a coach and fitness instructor when I was younger and have always enjoyed being active.  I feel better about myself mentally and physically when I am working out.  Aging is not for the faint of heart LOL.    I have four grandchildren that put me through my paces and if I didn't stay in shape I could never keep up.
I am truly grateful that I connected with KORE
Thank you to Kelly and all the instructors for keeping me motivated during some of the most trying times
You guys are truly the best