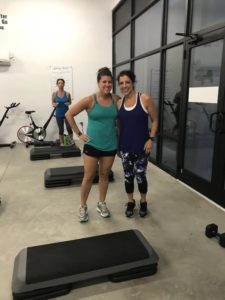 Family First!
Here at Kore this dynamic duo is a mother daughter team! Dina and Jenna Zwiebel have been working out at Kore together for one whole year. They inspire us to keep working hard! They both endlessly support each other and show up for classes each day. We asked them a few questions on how they get it done!
1.) Do you guys encourage each other when you workout? Or do you get competitive?
I would say we encourage more than compete. Neither of us tend to be competitive, we sort of like to do our own thing, get in the zone & compete with ourselves. But we definitely support one another along the way!
2.) DO you feel more inclined to go to a class if the other is going?
Yes… I think Mom is more likely to come to 5:30 am class if I'm going to be there… and she has definitely convinced me to come to classes with her. She is always getting me to step outside of my comfort zone & try new things that I normally wouldn't!
3.) How did you both start working out?
Well when my mom was 6 months pregnant she was taking aerobics classes, so i guess technically i started inutero?! Haha, just kidding! We always dabbled in different forms of exercise, but it wasn't until we started running and training for races (5ks & half marathons) that we got really serious about & consistent with our workout habits. After running a few races together, we decided to try out some strength training/bootcamp classes and realized that there's more to being healthy than just being able to run a few miles! We quickly got addicted to seeing improvements in our strength and changes in our bodies that we didn't get from only doing cardio, and we've been doing it ever since!
4.) How does working out at Kore make you feel?
Tired & sweaty… at least at first. But after every class we feel like we've accomplished something. We always feel good about ourselves when we finish the workout. Sometimes it's painful to get through, but worth it in the end!
5.) Have you developed friendships within classes?
We knew some members from working out other places prior to Kore opening. Since joining Kore we have been able to further develop those friendships. But, we have also really enjoyed working out alongside and getting to know other people in the Kore family! It's nice that there are always people of different ages & levels, who are always friendly & encouraging of each other!
6.) Will your other family members get involved?
We try! We've brought lots of people, including family members with us to different Kore events! My dad runs with us, and we have gotten him to come to a couple of Kore events with us, but haven't been able to convince him to join yet. My sister & her husband don't live in the Bel Air area but hopefully we can get them to drop in sometime!
7.) One thing you love most about kore.
Dina – Never having the same work schedule from week to week, I love that there are various class times & options so I can still get in several awesome workouts at Kore each week.
Jenna – I'm not the kind of person who likes to work out by myself. I love that no matter what class I come to, there's always a friendly face to work out alongside and an awesome instructor who will motivate & encourage me to push harder and do my best each workout!
Grab your family and come workout at Kore! The family that works out together stays together!