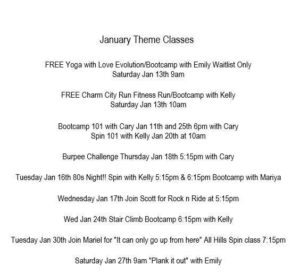 Bootcamp 101 & Spin 101. Come Join Cary & Kelly as they go over the basics! Kelly will teach you how to properly set up a bike & Cary will teach you about form and take any question!
Burpee Challenge with Cary. Enjoy this awesome challenging class that will have you feeling accomplished!
80s Night. Come to 80′s night and enjoy a themed Spin & Bootcamp! We encourage everyone to dress up and bring out the leg warmers!
Scott's Rock & Ride will have you rocking out to themed music as you sprint and climb through class!
Kelly's Stair Climber. Be prepared and dress warm! Focus on leg strength during this class!
Mariel's class will teach you how to cycle through hills and keep up the endurance! You got this.
Emily's Plank challenge winner will receive a prize! She will teach you how to properly engage so you get a fully body workout!  Come check it out!